It's Time to Expand and Upskill the Manufacturing Workforce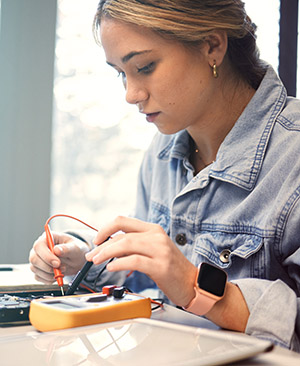 One of the most difficult challenges facing today's electronics industry is a chronic shortage of adequately skilled workers. More than two-thirds of IPC's U.S. members report that an inability to find and retain skilled workers is limiting their growth and competitiveness. Part of this challenge is due to the rapid rate at which technology evolves.  To address these needs, IPC has developed National Program Standards and Registered Apprenticeship Programs (RAPs)  with occupations for Electronics Assemblers and PCB Fabricators, approved by the US Department of Labor.
If you're an electronics manufacturer, this is an opportunity to access, attract, develop and retain the talent you need to grow now and in the future.  If you are a worker, this is a chance to earn a paycheck while you learn the skills needed to develop a career with strong earning and learning potential.  For IPC, it is our mission to further the competitive excellence and success of our members, who are participants in the electronics industry by developing a pipeline of new talent and upskilling existing employees.
 
Expand your talent pool
Reduce Turnover
Improve Productivity
Demonstrate investment in your community 
 
Earn While You Learn
Receive related technical instruction
Eligibility to earn industry-recognized credentials
(J-STD-001 CIS) (IPC A 610 CIS) (IPC A 600 CIS)
Receive a nationally recognized, portable credential
 
IPC Attains U.S. Dept. of Labor Approval of its National Apprenticeships Standards
The U.S. Department of Labor (DOL) approved IPC's National Program Standards of Apprenticeship – the first-ever in the U.S. electronics manufacturing industry – in a move designed to expand the skilled workforce for this strategically vital industry. The recognition was bestowed during a ceremony on November 16, 2023 as part of National Apprenticeship Week, November 13-19. The DOL's action ensures that IPC's Registered Apprentice programs are recognized nationally and align with the industry's highest standards of proficiency in electronics manufacturing.
What is IPC's Registered Apprenticeship Program?
Built by and for the electronics industry, IPC's Registered Apprenticeship Programs (IPC RAPs) are competency-based apprenticeships aimed at growing the productivity of the electronics manufacturing workforce.
Program Design
The IPC's Registered Apprenticeship Program (IPC's RAP) provides employers with a proven talent development solution for onboarding or upskilling Electronics Assemblers. It also provides apprentices with a point of entry into a well-developed career pathway in the electronics manufacturing industry. Like all registered apprenticeship programs, IPC's RAP requires employers to provide apprentices with:
Paid Employment
Employers have control over the selection of who becomes an apprentice. IPC's Workforce Partnerships team will assist in finding possible apprentices by identifying local workforce agencies and other community-based organizations that may be sources of talent. The apprentice will be a full-time employee, NOT part-time, and eligible for merit-based wage increases over the term of the program.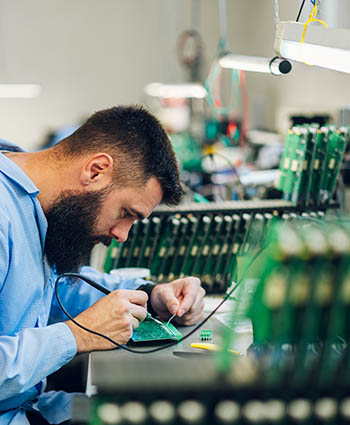 On-the-Job Learning Experiences
The employer agrees to provide the apprentice with on-the-job learning (OJL) coupled with the necessary coursework that leads to a satisfactory understanding and performance of the position's technical competencies.
Related Technical Instruction
The apprenticeship program is based on IPC industry input and credential/certification requirements and the O*NET description of the occupation Electronics Assembler or PCB Fabricator and has been approved by the Department of Labor.   Modifications to the program can be explored on an individual employer basis. IPC expects it will take the apprentice approximately 12 months or 2,000 hours to complete the program; this may vary depending on the apprentice's previous learning and work experiences and the employer's requirements.
Apprentices will also be expected to demonstrate a variety of behavioral competencies, many of which are considered employability skills, that should be directed by each company's culture through the On-the-Job-Learning (OJL) with the help of the supervisor/mentor.
Education
Included in the Electronics Assembler apprenticeship is 175 hours of required technical instruction aligned with the outlined competencies. This instruction can be delivered virtually and/or in person. 
CORE COURSES cover topics for which all apprentices must demonstrate competency. An employer may determine that the apprentice already has sufficient knowledge in some of these areas, which would reduce the number of technical instruction hours required.
How much will the education portion of the apprenticeship cost?
The related technical instruction courses taken through IPC's Education Portal will be a cost of $500 per apprentice.  
Mentoring
Research shows that mentorship is a key component of an apprentice's success. The employer identifies an appropriate person(s) to mentor the apprentice during the apprenticeship as he or she performs each of the job responsibilities of an Electronics Assembler. IPC, the employer and apprentices will utilize Work Hands (an apprenticeship management software) to assist in documenting and tracking apprentice progress throughout the apprenticeship.  IPC's Workforce Partnership team is able to help employers by recommending resources that will help in developing mentor relationships that bring value to both the employer and the apprentice.
A Nationally Recognized Credential Upon Completion
The capstone of any apprenticeship program is the earning of a credential with market recognition. In addition to culminating in the US Department of Labor's Certificate of Apprenticeship Completion, the apprenticeship program is designed to give the apprentice the education and experiences necessary to successfully obtain industry-related credentials. These credentials demonstrate to the global electronics manufacturing community that the credential-holder has strong capabilities in both aspects—competency and knowledge—that are required for effective job performance.