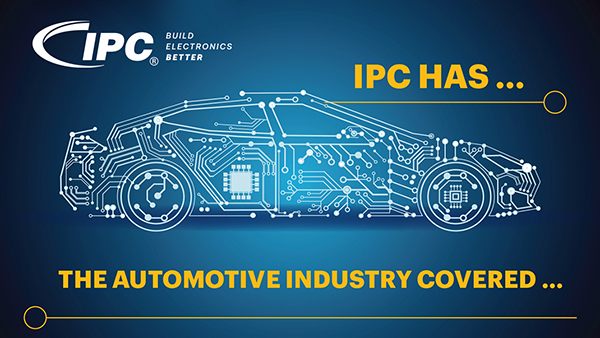 Electronic Industry Standards for the Automotive Market
IPC has been delivering standards for the electronics industry for over 65 years. Through market research we know that electronics systems will account for over 50% of a cars cost by 2030 (Freescale/NXP).
We all know that various electronic systems within a vehicle have become more complicated and critical to the safe operation of a vehicle.
To ensure electronics systems are meeting the high-reliability requirements demanded by the automotive industry, IPC is working with the electronics industry to deliver the quality standards required to meet these stringent automotive requirements. 
IPC-6012DA-WAM1, Automotive Applications Addendum to IPC-6012D, Qualification and Performance Specification for Rigid Printed Boards
IPC-A-610G, Acceptability of Electronic Assemblies
IPC J-STD-001G, Requirements for Soldered Electrical and Electronic Assemblies
IPC-J-STD-001GA/A-610GA, Automotive Addendum to IPC J-STD-001G Requirements for Soldered Electrical and Electronic Assemblies and IPC-A-610G Acceptability of Electronic Assemblies
IPC/WHMA-A-620D, Requirements and Acceptance for Cable and Wire Harness Assemblies
IPC-9797, Press-fit Standard for Automotive Requirements and Other High-reliability Applications
High Voltage Cable, Electric Vehicles – 7-13FHV, applications for electric vehicles 
Join an automotive IPC electronics industry committee and drive the solution!
Send an e-mail to Answers@ipc.org an IPC technical staff member will contact you showing how to navigate IPC Works and getting involved with IPC Standards Committees.
Some companies involved with automotive standards include; Continental Automotive, Ford Motor Research and Engineering, Robert Bosch GmbH, Bose, Harman Automotive Electronic Systems, General Motors, Toyota Motor North America and others.