IPC SummerCom
SCHEDULE  |  REGISTER  |  AGENDA  |  CONTACT US  |  HOTEL  |  LOCATION 
We can't wait to welcome you to IPC SummerCom, in-person May 7-12, 2022 at the Wisconsin Center in Milwaukee, Wisconsin.
IPC SummerCom will be co-located with the Electrical Wire Processing Technology Expo (EWPTE), the industry's exclusive trade show for decision-makers who design, specify, purchase, install, sell, maintain or manufacture electronic cable assemblies, cord sets, wiring harnesses, and other related products. You're IPC Summercom registration gives you free access to EWPTE.
IPC SummerCom is all about IPC Standards, welcoming your contribution to the industry standards and guidelines relied on by your company, customers, suppliers, and competitors. Newcomers and industry veterans are welcome. Participate and learn more about these critical industry documents.
IPC Standard Development Committees cover a range of topics, including:
Assembly and Joining
Assembly Equipment
Base Materials
Cleaning and Coating
Electronic Documentation Technology
Electronic Product Data Description
Embedded Devices
Environment, Health and Safety
Fabrication Processes
Flexible and Rigid-Flex Printed Boards
High Speed/High Frequency Interconnection
Management
Packaged Electronic Components
Printed Board Design Technology
Printed Electronics
Process Control
Product Assurance
Product Reliability
Rigid Printed Boards
Terms and Definitions
Testing
Wearable Electronics/E-Textiles

Springhill Suites
744 Vel R Phillips Ave
Milwaukee, WI 53203
SpringHill Suites Hotel in Downtown Milwaukee (marriott.com)
IPC is offering a rate of $159 per night. 
The rate includes a complimentary breakfast
Wireless internet access is complimentary throughout the hotel
Call 414-273-9811 or using the booking link to make your reservation. The $159 rate is available until April 6, 2022 or until all rooms in the block are booked.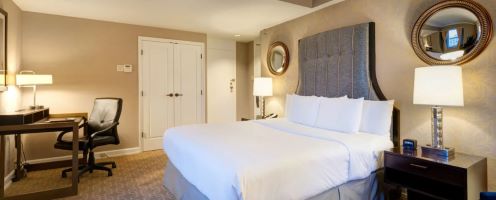 Hilton Milwaukee City Center
509 W Wisconsin Avenue
Milwaukee, WI 53203
The Hilton is connected by skywalk to the Wisconsin Center 
Hilton Milwaukee City Center Hotel in Downtown MKE
IPC is offering a rate of $165 per night. 
Discounted Overnight self-parking at $15.00 per vehicle
Call 414-935-5940 to make your reservation. The $165 rate is available until April 15, 2022 or until all rooms in the block are booked. 
Click here to learn more about Hilton's CleanStay program. 
Airport Information
Milwaukee Mitchell International Airport
Located just eight miles (an easy ten minute drive) from downtown, Milwaukee Mitchell International Airport (MKE) offers travelers lower fares and more options than ever to make starting your vacation in Milwaukee a snap with non-stop service to 50 cities.
Getting from the airport to where you need to go is easy thanks to eight on-premise auto rental agencies, plus plenty of shuttles, taxis, limousine services, and coach transports. Uber and Lyft drop-off and pick-up service is available to the airport. An Amtrak station is also conveniently located near the terminal, with a free shuttle bus between the airport and the station. Let your local friends and family know that picking up passengers is easy – in addition to the baggage claim pickup area, the first thirty minutes in the hourly and surface lot is free!
Transportation
Milwaukee is located just 90 minutes north of Chicago and within a day's drive of one-third of the U.S. population. Whether you travel by plane, train, car, or bus, it just might be a quicker trip than you think. Transportation information
Driving
Milwaukee is conveniently located at the intersection of I-94 and I-43. The award-winning $810 million Marquette Interchange completed in 2008 assures optimal downtown highway traffic flow. Parking downtown is readily available. Visit ParkMilwaukee.com to find lots and structures near popular downtown attractions, and use the handy MKE Park app to pay for meter parking directly from your phone.
Walking
Milwaukee's compact downtown makes it easily walkable! The 3-mile Milwaukee RiverWalk winds through downtown, connecting the Beerline B neighborhood to Old World Third Street and then the Historic Third Ward.
Public Transportation
Buses run throughout downtown Milwaukee and the rest of the county, including special shuttles to summertime lakefront events. The Ride MCTS app makes it easy for all to get around with route information and real-time bus tracking - you can even buy your ticket directly from your phone! For more information on Milwaukee County Transit, please visit ridemcts.com.
Trains
Located downtown, the recently renovated Milwaukee Intermodal Station features 14 total Amtrak departures daily between Chicago and Milwaukee and daily direct departures between Minneapolis/St. Paul. Connect through Chicago to over 500 cities nationwide.
Ride Share
Uber and Lyft both operate in Milwaukee.  Use code VISITMKE ( or visit www.lyft.com/i/visitmke) for $10 off two rides from Lyft. 
Accessibility
All Milwaukee city buses are wheelchair-accessible via a ramp at the front of the bus. Other accessible rides can be arranged through local non-emergency transportation companies. The Amtrak train between Milwaukee and Chicago is also wheelchair accessible.
Wisconsin Center is GBAC STAR-accredited - this means the Wisconsin Center, Miller High Life Theatre, and UW-M Panther Arena meet the gold standard for outbreak prevention, response, and recovery. These safety and sanitization protocols work in conjunction with state and city requirements.
COVID-19 Protocols
As of March 1, 2022, the City of Milwaukee Common Council's most recent mask ordinance expired and as such, all WCD venues, including the Wisconsin Center are now mask-optional regardless of vaccination status. 
Traveling from Outside the US
If you are traveling from outside the US and require and negative test to return home, there are several testing sites near the Wisconsin Center.   Please note, General Mitchell International Airport (Milwaukee Airport) does not offer on-site COVID testing. 
Where to Get Tested
Midtown Pharmacy
NO APPOINTMENT necessary
1000 S Cesar E Chavez Dr., Milwaukee, WI 53204
414-336-8918
2.1 miles from Wisconsin Center
Hayat Pharmacy
APPOINTMENT REQUIRED
1919 W North Ave., Milwaukee, WI 53205
414-374-0000
2.2 miles from Wisconsin Center
Progressive Community Health Centers
APPOINTMENT REQUIRED
3522 W. Lisbon Ave., Milwaukee, WI 53208
414-882-2040
3.1 miles from Wisconsin Center
Additional Testing Sites
For additional testing sites, visit: https://www.testupmke.com/testing-sites
Keep up to Date on COVID-19 Protocols
As COVID-19 protocols are constantly changing, please visit https://www.visitmilwaukee.org/coronavirus/ for the most current and up-to-date information for the City of Milwaukee and visit https://www.cdc.gov/ for the most current and up-to-date CDC guidelines. 
400 W Wisconsin Ave
Milwaukee, WI 53203
United States
Wisconsin Center
Wisconsin Center
400 W Wisconsin Ave
Milwaukee, WI 53203
United States