Get your boarding passes here for the IPC E-Textiles 2021 World Tour.
Travel the world with us from the comfort of your home. IPC E-Textiles 2021 Virtual World Tour is your passport to a first-class experience to e-textiles destinations around the world, where local technologists will provide top-level education and e-textiles demonstrations. Grab your passport, make sure your seat is an upright position and get ready for IPC to take you on a fun and educational experience. Register for your FREE boarding passes today!
Our first destination is bustling Taipei City, Taiwan, with presentations and virtual demonstrations by the Taiwan Textile Research Institute (TTRI) on September 2. Heading west from Taiwan, we will land in the United States for a visit to Drexel University for Functional Fabrics in Philadelphia, Pennsylvania on October 27. Leaving the United States, our whirlwind trip takes us to Berlin, Germany for an educational experience hosted by Fraunhofer Institute for Reliability and Microintegration on November 17. Leaving Germany, we travel eastward to Japan, for more world class learning hosted by Japan Printed Circuit Association (JPCA) on December 1.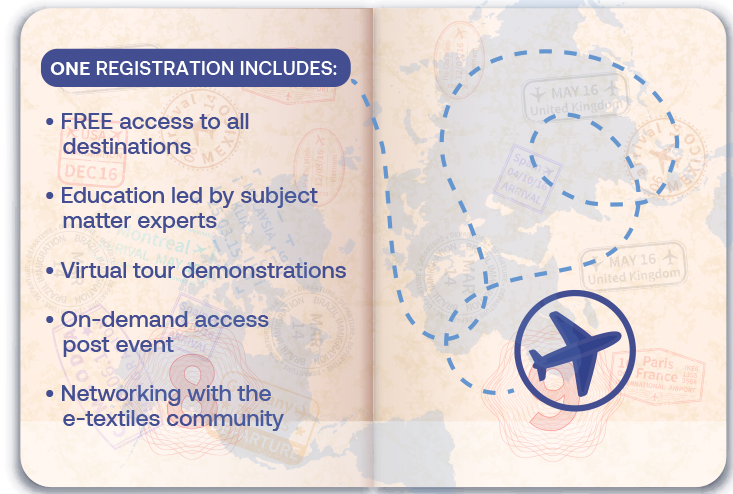 This One Is on Us
Even though we may be getting back to normal, times still aren't normal for our industry. As companies continue to rebound from the past year, education budgets may be cut or nonexistent.
We understand. That is why we are bringing this world tour to you at no cost.
This one is on us. So grab your boarding pass today, and we will see you during the tour!

DESTINATION | TAIWAN
Agenda | Taipei, Taiwan
Date: Thursday, September 2, 2021
This event has passed. Register for your free boarding pass to get access to the on-demand recording.
During the first stop on our tour, subject matter experts from the renowned Taiwan Textiles Research Institute (TTRI) will provide an interactive view into the many leading studies they are doing for the wearables market. Demonstrations will include testing from their Sports Experience Lab, including wash durability for sensors and the sweating manikin test.
On either side of these demonstrations, participants will learn about gait analysis and laundering reliability of wearables.
Opening and Introduction 
15:00-15:05    Robert Jou, Vice President, TTRI
Paper Presentation-1
15:05-15:25    Kinesiology and Sensor-based Textiles Researches in Sports and Movement Science
Speaker: W. C. Hsu, Associate Dean of College of Applied Science, Professor of Graduate Institute of Biomedical Engineering, National Taiwan University of Science and Technology (NTUST), Adjunct Professor of Institute of Athletic Performance, National Taiwan Normal University.
15:25-15:35    Q&A
15:35-16:05    About Taiwan Textile Research Institute (TTRI) and Virtual Laboratory Tour
Sports Experience Lab 
Human Body Composition Analysis
Pressure Test 
Electromyology and Muscle Oscillation Measurement 
Temperature and Humidity Detection
Cardiopulmonary Test 
Motion Analysis
Blood Lactate Test
Muscle Soreness Test
Presented by: Liz Wu, Vice Researcher, Department of Testing and Certifiction, Taiwan Textile Research Intitute (TTRI)
Evaluation of Smart Sportswear on Sensor Function and Durability to Wash
The Technology of Physiological Evaluation for Smart Sportswear
Test Procedure for Home Laundering (AATCC Test Method 135)
Presented by: Sirens Ciou, Deputy Section Chief, Department of Testing and Certification, Taiwan Textile Research Institute (TTRI)
     
Comfort Evaluation Lab
Sweating Thermal Manikin (ASTM F1291, ASTM F2370, ASTM F2371, ISO 15831, EN342, EN 14058, and EN13537 for sleeping bag)
Human Wear Trial with a Climate Chamber or in Field
Sweating Torso (ISO 18640-1 and the upgrade software of THS- Thermo-physiological Human Simulator of ISO 18640-2) 
Presented by: Li-Chu Wang, Researcher, Department of Testing and Certification, Taiwan Textile Research Institute (TTRI)
16:05-16:20    Q&A
Paper Presentation-2
16:20-16:40    Laundering Reliability of Electrically Conductive Fabrics for E-Textile Applications
Speaker: Jeffrey Lee, Assistant Vice President, Global Engineering Development Division, iST-Integrated Service Technology
16:40-16:50    Q&A

DESTINATION | U.S.
Agenda | Philadelphia, Pennsylvania U.S.
Date: Wednesday, October 27, 2021
Times: Philadelphia – 9:00 AM to 11:00 AM Eastern (US) 
Soft Systems Design Kit – Creating Tools to Facilitate E-Textiles Development
The Soft Systems Design Kit (SSDK), under development at Drexel University's Center for Functional Fabrics, is a set of tools and guidance which seeks to bring the design methodologies of the semiconductor industry into the e-textiles space to speed product development and de-risk projects. Process development kits (PDKs) are a fundamental tool used in the semiconductor industry to guide development of integrated circuit devices. Developed and refined over the course of several decades, these toolsets define the processes and capabilities of a given manufacturer, providing design guidance, process parameters, and simulation and validation tools to aid engineers in creating and evaluating complex devices designs. This enables a predictive, well-understood development process without extensive use of sampling and prototyping. In contrast, no tool akin to the PDK exists in the textiles space. Current development of electronic textiles (e-textiles) and other textile-based soft systems occurs in an iterative, ad-hoc manner that relies on experimentation and observation to direct the design process. The SSDK leverages current e-textile practices at Drexel to introduce a suite of novel simulation tools and process-driven workflows to adapt the methods of a PDK towards a generalizable model for this emerging space.
This stop on the tour will provide unique insights into Drexel's SSDK, in addition to technical presentations and demonstrations.
Detailed agenda coming soon!

DESTINATION | GERMANY
Agenda | Berlin, German
Date: Wednesday, November 17, 2021
Times: Berlin – 1:00 PM to 4:00 PM Central European Time 
During this stop on the tour leading technologists from Fraunhofer IZM will provide presentations and discussions on recent work out of their university as well as a virtual tour of their TexLab. In addition to the technical presentations, demonstrations and Q&As with speakers, Christian Dalsgaard, head of Smart Textile Alliance, will provide an industry keynote.
Stay tuned to this page for additional details about this stop on the tour.
Part 1: Introduction and Market Situation
13:00-13:15    Introduction to IZM / TexLab
Virtual lab tour
Introduction to IZM staff
13:15-13:30    E-Textiles Market Overview
Product classes
Applications
13:30-13:50    Industry Keynote by Christian Dalsgaard
15-minute break
Part 2: E-Textiles Technologies at Fraunhofer IZM
All topics will include Q&A time with presenters
14:05-14:10     Short introduction and opening statements
14:10-14:35     Substrate-Level Flexible and Textile-Integrated Circuits
14:35-15:00    Embedding
15:00-15:25    Interconnections and Integration
15:25-15:50    Reliability for E-Textiles
15:50-16:00    Products, Collaborations and Application Examples

DESTINATION | JAPAN
Agenda | Tokyo, Japan
Date: December 1
Times: Japan – 3:00 PM to 5:00 PM Japan Standard Time
More information coming soon!
Gold Sponsor | All Destinations
Sponsor logo will be prominently displayed on conference website, event promotional materials, kick-off and break slides (all destinations). Logo can include hyperlink to sponsor content (e.g., website, special event site, social media).
3-5 minute video posted on event website; or each sponsor will be given a time slot during the event for a 3-5 minute pre-recorded or live presentation (topic of your choice) during event of choosing.

The sponsor presentation time slot will be assigned randomly once we have all sponsors confirmed.
Presentation recording will be posted on the event proceedings site.

One free voucher for any IPC EDGE self-paced course or a free DRM-protected IPC standard.
One free registration for the 2022 live IPC E-Textiles event – date and location TBD.
Pre-registration contact list for all consenting attendees prior to the event.
IPC Member: $3500 
Nonmember: $4375
Silver Sponsor | One Destination
Benefits of sponsorship:
Sponsor logo will be prominently displayed on conference website, event promotional materials (destination specific), kick-off and break slides (destination specific). Logo can include hyperlink to sponsor content (e.g., website, special event site, social media).
IPC Member: $1500
Nonmember: $1875
Sponsors are asked to let us know if they wish to sponsor this event no later than Friday, October 15, 2021.
Conference Logistics: Virtual meetings via Zoom on following dates:
Taiwan | September 2, 2021 
U.S. | October 27, 2021
Germany | November 17, 2021
Japan | December 1, 2021
For more information about sponsorship opportunities, please contact Chris Jorgensen, IPC Director of Technology Transfer at ChrisJorgensen@ipc.org or call +1 847-597-2826.
Download your boarding pass below and share it on your social media of choice using the hashtag: #IPCEtextilesWorldTour.
Resource: IPC E-Textiles 2021 Virtual World Tour Banner
Dimensions: 1600x400
File Type: .jpg
File Size: 509KB 
Download
Resource: IPC E-Textiles 2021 Virtual World Tour Banner
Dimensions: 1200x675
File Type: .jpg
File Size: 477KB 
Download
Resource: IPC E-Textiles 2021 Virtual World Tour Square Banner
Dimensions: 500x500
File Type: .jpg
File Size: 193KB 
Download
 
IPC E-Textiles Initiative - Get Involved Today